Question
"I found a variable "v_4" in an old data file and I can't remember how exactly I created it. The syntax I used got a bit messy, I have different files and they're in different folders. Is there an easy way to find out which syntax files contain the expression "v_4"?"
SPSS Search Syntax Files Tool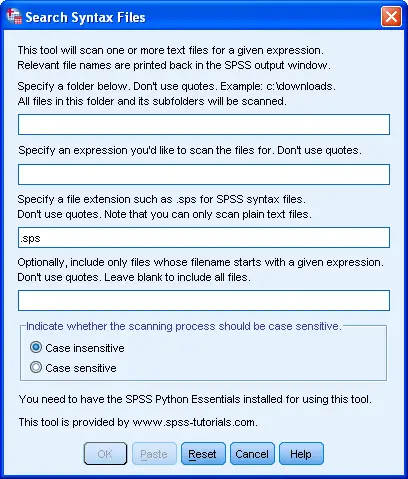 SPSS Search Syntax Files Tool
Make sure you have the SPSS Python Essentials installed.
Next, download and install the SPSS Search Syntax Files Tool. Note that this is an SPSS custom dialog.
Click .
Specify a folder, a search expression and a file extension.
Optionally, specify the first character(s) of the file names you'd like to search.
Click syntax.
and run the pasted
The full paths to all files containing the search expression are printed back in the SPSS output window.
Clicking the tool's
button will take you to this tutorial. We very much appreciate your feedback on it.
Notes
All files containing plain text can be scanned with this tool. This includes .txt, .html, .csv and .py files.
Note that MS Word (.doc) and Excel (.xls) files do not contain plain text and therefore can't be scanned by this tool.
Note that you can copy-paste paths from the SPSS output window into Windows Explorer in order to open files.