Summary
Reading multiple sheet Excel workbooks into SPSS is easily done with this Custom Dialog. This tutorial demonstrates how to use it.
Before You Start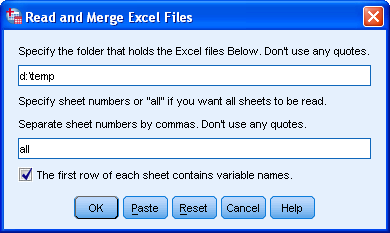 SPSS Read and Merge Excel Files Tool
Make sure you have the SPSS Python Essentials installed.
Download and install the xlrd module.
If you'd like to generate some test data as done in the syntax example, you'll need the xlwt module as well.
Download and install Excel to SPSS Tool. Note that this is an SPSS custom dialog. You'll now find under .
Close all datasets in SPSS.
SPSS Syntax Example for Generating Test Data
* Create some small Excel workbooks for testing.

begin program.
rdir=r'd:\temp' # Specify folder for writing test files.
import xlwt,random,datetime,os
fmt = xlwt.easyxf(num_format_str='M/D/YY')
wBooks = ["book_" + str(cnt) for cnt in range(1,5)]
for noSheets,wBook in enumerate(wBooks):
    wb=xlwt.Workbook()
    for sheetNo in range(noSheets + 1):
        ws=wb.add_sheet("sheet_%d"%(sheetNo + 1))
        for col,cont in enumerate(['date','ID','JobTitle','Revenue']):
            ws.write(0,col,cont)
        for row in range(1,6):
            ws.write(row,0,datetime.datetime(2008 + sheetNo,1,1) + datetime.timedelta(days=random.randrange(1,365)),fmt)
            ws.write(row,1,random.choice([None,104,21,60,2,1030]))
            ws.write(row,2,random.choice([None,'Developer','Tester','Manager']))
            ws.write(row,3,random.randrange(40,80)*1000)
    wb.save(os.path.join(rdir,wBook + '.xls'))
end program.
Reading All Data Into SPSS
Since we created our test data in d:\temp, this folder will hold the Excel files. We can simply copy-paste this into the dialog. Other than that, we don't have to change anything. The first row holds the variable names and we'd like all sheets from all workbooks to be read.
Description
By default, the program will read in all .xls files in a folder specified by the user.
By default, all data from all sheets will be imported. The default of all sheets can be overridden by specifying one or more sheets (see below).
In order for this to make sense, all sheets in all workbooks are assumed to have similar formats (numbers of columns, column contents).
By default, it is assumed that the first row of each sheet contains column names. If these conflict, the column names of the last sheet of the last workbook that's read will be used. If no column names are present, column_1, column_2 and so on will be used as variable names in SPSS.
Converting Date Variables
Date variables in the Excel files are not automatically converted to SPSS
date variables
. After reading in the data, they can be
converted
with the
syntax
below.
* Convert "date" to date format.

compute date=datesum(date.dmy(30,12,1899),date,"days").
format date(edate10).
exe.
What if I Don't Want All Sheets to be Read?
In this case, the desired sheets can be specified. Note that the first sheet is referenced by 1 (rather than 0).
If two or more sheets are to be read, separate them with commas.
If sheets that are specified do not exist in one or more workbooks, the command will not run. An error message will indicate the first workbook where this occurred.
What if I Don't Want All Workbooks to be Read?
This default can not be overridden. A workaround may be to move irrelevant workbooks to a different folder.