Python is among the most important programming languages today and can be used in SPSS. Doing so may truly decimate the time and effort you need to get things done. This tutorial briefly explains what Python is, how it relates to SPSS and why you might want to start using it.
What is Python?
Python is among the most important programming languages in use today. It is Open Source Software and it may be freely downloaded, used and distributed, even for commercial use.
Python was deliberately designed to be intuitive and easy to learn, a programming language suitable for non programmers -which probably includes most SPSS users.
Python easily handles a huge variety of tasks: it can read, write or modify text files, Excel files, MySQL databases, SPSS and much more. The website you're now visiting also runs partly on Python.
Just like www.spss-tutorials.com, Python was invented and created in Amsterdam, the Netherlands.
How does Python relate to SPSS?
Python and SPSS are two separate programs that used to be completely unrelated. You could have both on your computer but they would not cooperate to any extent whatsoever.
Since SPSS version 13, an SPSS Python plugin was developed. It connects SPSS with Python and thus makes everything in Python available to SPSS and reversely.
The plugin allows using Python code in the SPSS syntax window. SPSS sends this Python code to Python
Python may then retrieve elements from SPSS such as variable names, data values, output tables and charts.
Finally, Python can modify these elements or create and run SPSS syntax based on what's in the data or output windows.
Starting from SPSS version 17, you can run SPSS syntax (with or without Python) from SPSS Custom Dialogs that can be easily added to SPSS' menu. Custom dialogs can have Python do the work for you without even seeing it. Some of the custom dialogs that we built are found under tools.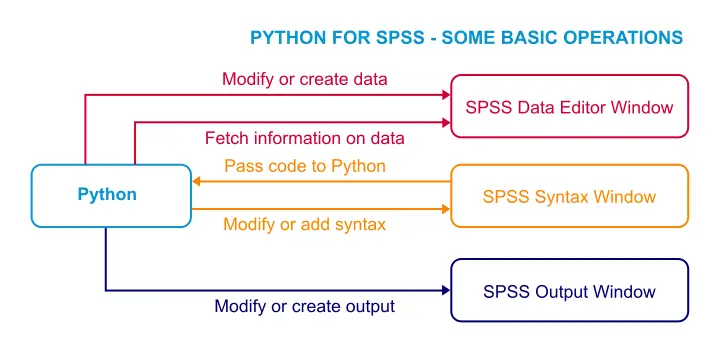 Why Should I Use Python in SPSS?
First and foremost, using Python for larger or more complex tasks may decimate the amount of time and effort they require.
Second, using Python may drastically decrease the amount of syntax needed in order to complete some tasks. Shorter syntax is much easier to read, modify and debug.
Copy-pasting large amounts of syntax is a waste of time and often results in mistakes.
Some SPSS tasks are not possible at all with basic syntax but are easily accomplished by Python.
There are no costs associated with using Python in SPSS.
There's an ever growing number of SPSS Custom Dialogs and SPSS Extension Bundles freely available that can be used from SPSS' menu but still need Python to actually run.
Some really crazy people even think that SPSS with Python is much more fun than just SPSS.
Which Approach Looks Better to You?